Full Automatic Gantry Palletizer for Case and bag Palletizing.The concepts of high speed, high load, high rigidity and high precision have become the development trend of material handling products in the future. This product has strong environmental adaptability, good tolerance to working environment dust, dust, temperature and other conditions, and is durable even in high dust industry. Provide customers with a variety of customized pneumatic hoisting lifting tools to meet the needs of glass, inflatable packaged small food and so on.
Automatic Servo Motor Palletising Arm Palletizer Machine for Carton.This machine is a gantry type low-position palletizer,stacking the entire layer. It adopts touch screen operation, realizes man-machine dialogue, can display production speed, failure reason and location, and has a high degree of automation. Using PLC programmable, the sorting of cartons, stacking layers, pallet supply and discharge can be programmed to control.Applicable product types: cartons, film bags, oil drums and other products with relatively flat surfaces.

1. Modular design. The combination mode and construction scale of the manipulator can be randomly matched according to the needs of the site. The load-bearing structure design of the module with high load capacity is convenient for customers to increase the number of carrying shafts in the later period of use. The standard axis combination methods include single X, single X + single Z, single X + multiple Z, Double X + single Y + single Z, Double X + multiple Y + single Z, double X + multiple Y + multiple Z. The driving control of the shaft can choose mechanical shaft synchronization or electrical control synchronization.
2. For large stroke module, the length of X-axis and y-axis module of standard products driven by gear and rack is 6m, which can be cut or spliced according to the requirement of working area size. Under the working condition of heavy load and long stroke, it can still run at high speed. The running speed of the product shaft can reach 2 m/s and that of non-standard products can reach 5 m/s.
3. Siemens PLC control system is adopted, with stable performance and rich data communication interfaces, which is more convenient for centralized control with the customer's upper computer system. The specially designed motion controller is more compatible with two unique motion trajectory control programming modes, standard G code programming of CNC machine tools and manual handling teaching function, effectively reduce the technical threshold and maintenance cost of robot applications.
4. Roller guiding mode the design bearing capacity of standard modules is 10kg ~ 2000kg, and the designed operating life of modules is over 7500km.The maximum carrying capacity of non-standard modules can reach 60t. The specially selected high-temperature module can work at 120℃.
5. Fall prevention design: safe and reliable, no worries Assuming that the whole equipment suddenly loses power, when the lifting mechanism is running the Brake brake, the anti-falling electromagnetic or pneumatic lock will act immediately to lock the whole lifting mechanism. In addition, the brake can also be locked when the lifting operation is unreliable or overhauled, which is convenient to replace the motor brake and plays the role of safety brake.


Our company can offer customers with different terms of delivery. Customers can choose shipping way by sea or by air according to urgency priority. Our packaging cases can meet sea and air freight requirement. We'll prepare all files like PL, the certificate of origin, invoice and other files. There is a worker whose main job is make sure every robot can be delivered to customes port without a hitch in 40 working days.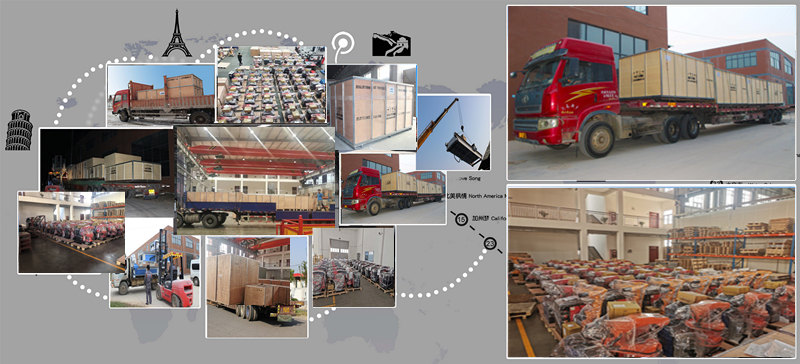 Your worker will have 3-5 days free training in our factory. There will be a Wechat group or WhatsApp group, our technicians who are responsible for after sale service, electrical, hard ware, software, etc, will be in. If one problem happens twice, our technician will go to customer company to solve the problem.

Q1.Can you design the machine according to our requirements?
Yes. We not only can customize the machine according to your technical drawing, but also can make new machine according to your requirements.
Q2:Can you offer overseas technical support?
Yes. We sure support dispatch engineers to your company to set the machine and train your
worker if needed.
Q3:why should you buy from us not from other suppliers?
10 Years of project design and research experience, Several successful service cases for example, robot control, lithium battery production line control, refractory material production line, power plant control, juice production line.
Q4:If you will send a inquiry, what we should know:
1. what's your product need palletizing? carton nox or what ?
2. what's your product size? like diameter and height?
3. How about you pallet size ?
4. How many layers you want palletizing ?

NO.219 NanyangRoad, Zhengzhou City, Henan Province China
Request for Quotation