HY1165B-315 is a 4 axis robot mainly used in palletizing. It is a machine device used for the automatic execution of work, which can automatically stack objects into containers on pallets under a pre-arranged program, it can stack in multiple layers, and then push out to facilitate the transportation of forklifts to warehouses for storage. Its purpose is to assist or replace human palletizing.It is an intelligent palletizing robot and depalletizing robot, can replace manual palletizing or depalletizing operation, improve work efficiency, reduce labor intensity.
Users can operate it by a simple system to palletize goods, in doing so, it not only helps users to save warehouse space and human resources, but also improve the palletizing efficiency and make goods stack more neat.


Our company can offer customers with different terms of delivery. Customers can choose shipping way by sea or by air according to urgency priority. Our packaging cases can meet sea and air freight requirement. We'll prepare all files like PL, the certificate of origin, invoice and other files. There is a worker whose main job is make sure every robot can be delivered to customes port without a hitch in 40 working days.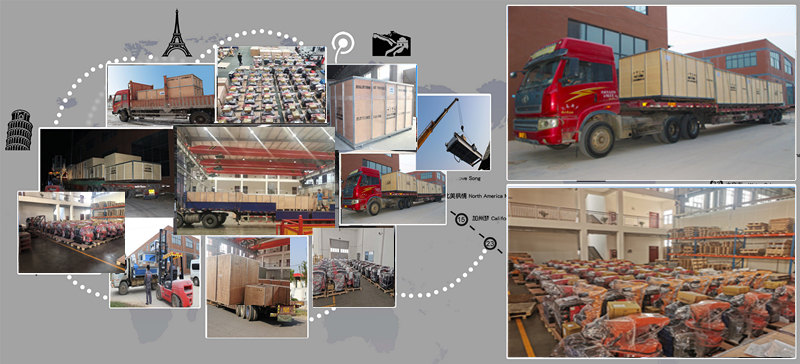 Your worker will have 3-5 days free training in our factory. There will be a Wechat group or WhatsApp group, our technicians who are responsible for after sale service, electrical, hard ware, software, etc, will be in. If one problem happens twice, our technician will go to customer company to solve the problem.

Q1.How does the cost of a robotic palletizer compare with other alternatives?
A.A robotic palletizer is more expensive than a single product hard palletizing system but it is less expensive than a large dedicated palletizer with multiple infeeds. Robotic palletizing can range from $10K in its simplest form to $30K+ for robot body.
Q2.What types of End-of-Arm-Tooling (EOAT) are used for palletizing?
A.There are a number of EOAT options available each with their own specific uses. Vacuum cups or pads are generally used for closed top cases and pails. A scoop tool or a combo scoop & clamp tool is generally used for open top cases or trays. A bag tool with lifting fingers & a tamp is generally used for large bags in the 20-100 # range. Odd shaped parts are generally picked up with a clamp tool.
Q3.What is a palletizing robot?
A.By automating your shop with a palletizing robot, you can increase the consistency of your loading and unloading processes.
Q4.Where can I practice your robot control system?
A.Which country are you in? you can come to our factory for deeply free training. Or you can ask our dealers in your country for help.

NO.219 NanyangRoad, Zhengzhou City, Henan Province China
Request for Quotation