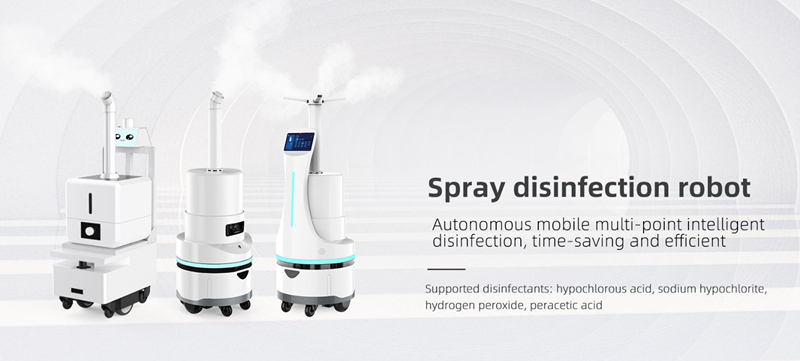 Effective disinfection of COVID-19.The atomization disinfection robot uses the robot as the carrier to autonomously move and multi-point autonomous disinfection. By diluting and atomizing the disinfectant, the disinfectant is atomized to form tiny particles, which can effectively inhibit microorganisms, bacteria, and viruses attached to the surface of the object. According to the actual disinfection needs, autonomously plan the disinfection route, and fully automatic indoor unmanned driving , It can sterilize the indoor space and air without dead angle 360°, and can disinfect 1000m³ space in 15 minutes, reducing manual contact and avoiding the risk of personnel infection.
Functional overview:
Indoor autonomous mobile multi-point spray disinfection.·Original cloud service management platform, remote navigation deployment, time-saving and efficient.It can disinfect 1000m³ of space in 15 minutes.Robot cruising speed is adjustable: 0.1m/s~1.0m/s.Timed disinfection function, automatic execution of disinfection tasks.Laser SLAM and V-SLAM fusion, accurate map construction and positioning.0.5 second intelligent obstacle avoidance, indoor autonomous route planning.3000ML/H atomization volume, 360° air surface disinfection.16L large water tank makes the robot spray disinfection work lasting · 37V/20Ah lithium battery, 5~6 hours long-lasting battery life.40,000 square meters of super large laser mapping to meet the needs of a variety of large scenes.Low battery will automatically return to charging, no one will operate. Support common disinfectants such as hypochlorous acid, sodium hypochlorite, hydrogen peroxide, peracetic acid, etc.
Support common disinfectant products on the market

Autonomous obstacle avoidance
SLAM navigation algorithm + laser navigation + intelligent obstacle avoidance
Laser SLAM and V-SLAM multi-sensor fusion technology, accurate indoor navigation and positioning, flexible obstacle avoidance Lidar sensing technology can detect objects within 20 meters around, 270° scanning angle, wide detection range, high accuracy Accurately detect obstacles and automatically bypass, which can realize pedestrian avoidance under unmanned driving.
Cloud service platform:
Rapid deployment, time-saving and efficient
Through the cloud service platform, the robot is connected and controlled remotely, and the navigation map is constructed visually throughout the process, reducing the response time of operation and maintenance services, allowing the robot to be put into use in a shorter time, saving time and cost.
Remote control, time-saving and efficient

Custom disinfection mode:
1.Autonomous mobile multi-point disinfection: supports single-pass disinfection, setting the duration of the disinfection target point; multi-point cycle disinfection, automatic disinfection within the set time.
2.Timed disinfection tasks: According to actual needs, you can customize the disinfection duration and disinfection week plan, and automatically perform disinfection tasks.
3.Customized disinfection target point: The disinfection target point can be customized on the navigation map generated on the web terminal (1.2.3…)
4.Autonomous planning of the disinfection path: After the disinfection target point is set, the disinfection route is automatically generated, and the whole process of disinfection or only the target point location disinfection is supported.
5.Automatic return to charging: When the power is lower than the minimum value, it will automatically return to the charging pile for charging without manual operation, which is convenient and quick.


Suitable for disinfection of large and medium-sized indoor public places
Traffic field
Subway stations, high-speed rail stations, airports, customs ports.
Government and enterprise fields
Hospitals, banks, government affairs halls, schools, libraries, nursing homes, welfare homes, factories, automobile 4S shops.
Shopping malls, supermarkets, restaurants, logistics
Logistics warehousing, restaurants, shopping malls.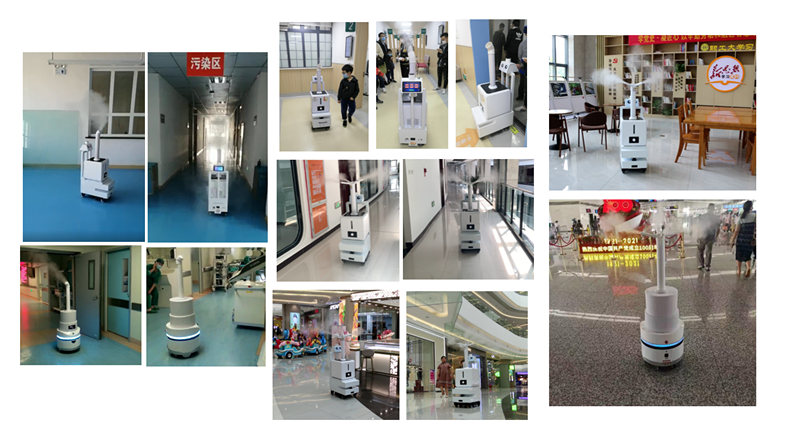 Our company can offer customers with different terms of delivery. Customers can choose shipping way by sea or by air according to urgency priority. Our packaging cases can meet sea and air freight requirement. We'll prepare all files like PL, the certificate of origin, invoice and other files. There is a worker whose main job is make sure every robot can be delivered to customes port without a hitch in 40 working days.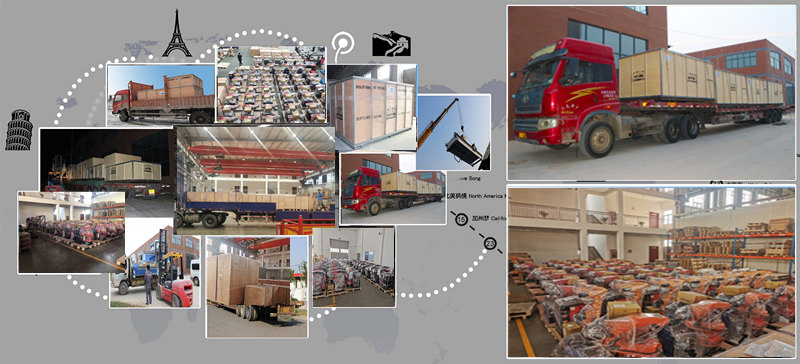 Your worker will have 3-5 days free training in our factory. There will be a Wechat group or WhatsApp group, our technicians who are responsible for after sale service, electrical, hard ware, software, etc, will be in. If one problem happens twice, our technician will go to customer company to solve the problem.

1. What is the water tank of  the atomizing robot and what is the spray rate?
We have two options for atomizing robots, 13L and 16L.The spray is 800-3000ml/h.One box can be sprayed for about five and a half minutes.
2.What is the working time when the robot is fully charged?
The battery life is:4~6 hours.If the battery level is lower than the preset value,the machine will automatically return to charging.
3.Do you also provide disinfectant?
We specialize in selling smart robots.Disinfectant is not our area of expertise.Customers are advised to purchase disinfectant by themselves.
4. What is the delivery time for mass production?
To be honest, it depends on the number of orders and the season you place them.
Usually according to the general order 25-28 days.
5. Can you do OEM and ODM?
A: Yes, OEM and ODM are both acceptable. The material, color, style can customize, the basic quantity we will advise after we discuss.

NO.219 NanyangRoad, Zhengzhou City, Henan Province China
Request for Quotation