The ultraviolet disinfection robot uses PHILIPS UV-C ultraviolet light source, and the inactivation rate of COVID-2019 is as high as 99.9999%. It has high efficiency, broad spectrum, thoroughness, no drug resistance and no secondary pollution. And other significant advantages, it is an efficient and environmentally friendly disinfection product.
Intelligent UV disinfection lamp is efficient, safe and pollution-free
Irradiated by 6 high-power UV lamps, effectively killing germs and viruses on the surface of the environment
Reach over 99.9999%, effectively reducing the chance of cross infection
Remote intelligent control, self-defined disinfection time, automaticly start disinfection task, no need to repeat settings
Simple installation and deployment, autonomous disinfection path planning, real-time monitoring of operating data
Infrared human body sensor, 360° omni-directional intelligent sensor, automatically turn off the light while sensing the human body, avoiding ultraviolet rays hurting the skin and other problems
Product Features
Indoor autonomous mobile multi-point disinfection. 40,000 square meters large area laser mapping to meet the use of large scenes . Independent cloud service platform, remote navigation deployment, saving time and effort .Infrared human body sensor, automatically turn off/on the light, avoiding obstacles and ultraviolet rays hurting the skin .Timed disinfection function, automatic execution of disinfection tasks. Laser SLAM and V-SLAM fusion, accurate map construction and positioning .Automatic return to charging, no-man operation.Second-level intelligent obstacle avoidance, indoor autonomous route planning.6 tubes of 90cm PHILIPS UV-C UV tubes.8000 hours long service life.Shortwave 254nm sterilization lamp ultraviolet radiation, efficient disinfection and sterilization .It has high efficiency, broad spectrum, thoroughness, no drug resistance and no secondary pollution, etc. UV disinfection conforms to [National Standard] GB 19258-2012 UV disinfection lamp.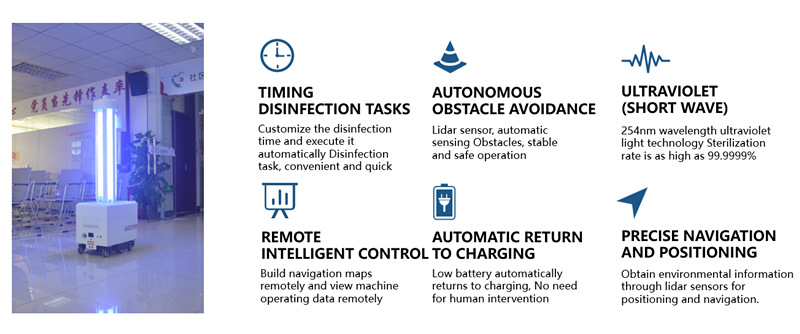 Cloud service platform
Rapid deployment, time-saving and efficient
Through the cloud service platform, the robot is connected and controlled remotely, and the navigation map is constructed visually throughout the process, reducing the response time of operation and maintenance services, allowing the robot to be put into use in a shorter time, saving time and cost.
Custom disinfection method
Autonomously mobile multi-point disinfection, Philips UVC ultraviolet tube, 180W high power, independent planning of disinfection path, 6-meter radiation disinfection range, disinfection more thorough.
The infrared sensor automatically senses the human body and realizes the intelligent disinfection mode of [lights off when people come, and lights on when people leave], effectively preventing ultraviolet rays from harming the skin.
Timed disinfection: According to actual needs, you can customize the disinfection duration and disinfection week plan, and automatically perform disinfection tasks.
Automaticly return to charging: When the power is lower than the minimum value, it will automatically return to the charging pile for charging without manual operation, which is convenient and quick.
Several disinfection target points can be calibrated according to actual needs, and the robot will automatically perform disinfection tasks according to the calibration sequence
Intelligent obstacle avoidance
SLAM navigation algorithm + laser navigation + intelligent obstacle avoidance
Laser SLAM and V-SLAM multi-sensor fusion technology, accurate indoor navigation and positioning, flexible obstacle avoidance
Lidar sensing technology can detect objects within 20 meters around, 270° scanning angle, wide detection range, high accuracy
Accurately detect obstacles and automatically bypass, which can realize pedestrian avoidance under unmanned driving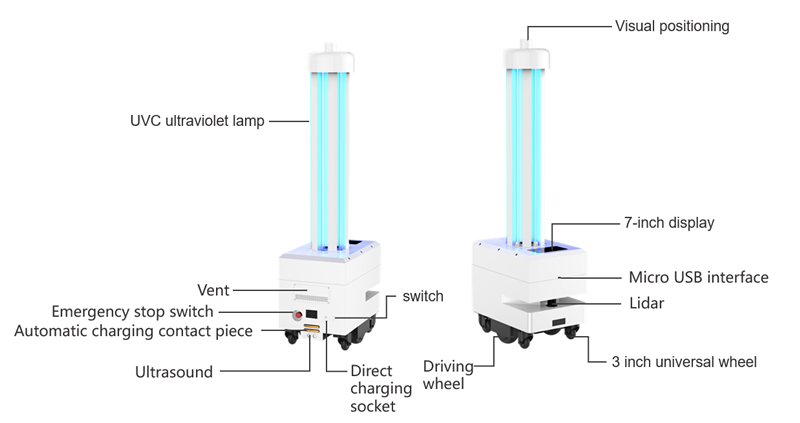 Suitable for disinfection of large and medium-sized indoor public places
Subway stations, high-speed rail stations, airports, customs ports
Hospitals, Banks, Government Halls, Restaurants, Shopping Malls
Logistics,Warehousing, Factory, Workshop
School, Library,Convention and Exhibition Center,Auto 4S Shop
Nursing homes, Welfare homes

Our company can offer customers with different terms of delivery. Customers can choose shipping way by sea or by air according to urgency priority. Our packaging cases can meet sea and air freight requirement. We'll prepare all files like PL, the certificate of origin, invoice and other files. There is a worker whose main job is make sure every robot can be delivered to customes port without a hitch in 40 working days.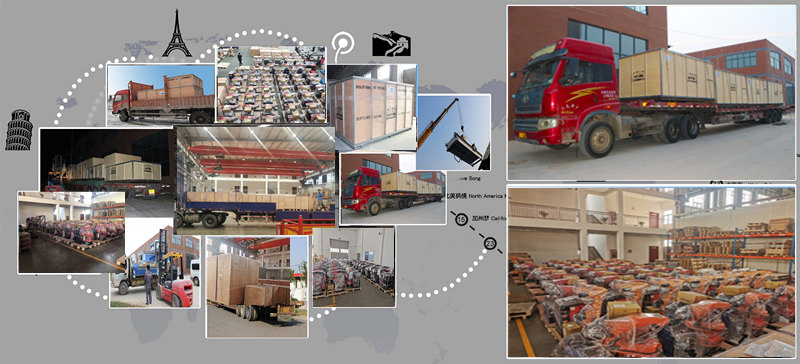 Your worker will have 3-5 days free training in our factory. There will be a Wechat group or WhatsApp group, our technicians who are responsible for after sale service, electrical, hard ware, software, etc, will be in. If one problem happens twice, our technician will go to customer company to solve the problem

Q1: Do you have a export licence?
A: Yes.
Q2: Which shipping way can you provide? 
A: We can provide shipping by sea, by air and by express.
Q3: What's the lead time?
A: According to the order quantity, small order usually need 3-5 days, big order need to be negotiated.
Q4: Which certificate do you have? 
A: CE, RoHS and ISO9001:2015, ISO14001:2015, OHSAS18001:2007.
Q5:  Can we print our own logo?
A. Yes, we offer OEM service.
Q6: What's your payment terms? 
A: We receive Western union, Paypal, T/T and so on.
Q7: What's your after-sale service? 
A: We have a perfect after-sales system, Our quality warranty period is one year. Any quality problem will be solved to customer satisfactions.

NO.219 NanyangRoad, Zhengzhou City, Henan Province China
Request for Quotation