RBT1020A-168 is a 6 axis robot mainly applied in loading and unloading. Loading and unloading robot is a mechanical arm controlled by numerical control system. With the help of human-computer interaction interface, which controls steering engine of each joint and its angle and send the command to the lower machine, RBT1020A-168 robot will complete a series actions of automatic loading and unloading. It can replace manual loading and unloading operations and form efficient automatic loading and unloading system.
As a highly efficient automatic robot, RBT1020A-168 has virtues of stable, reliable and continuous operation, high precision positioning, fast handling and clamping, shortening the working tempo. It can improve the single product manufacturing precision, speed up the mass production efficiency and quick and flexible to adapt to new tasks and new products, shorten delivery.


Our company can offer customers with different terms of delivery. Customers can choose shipping way by sea or by air according to urgency priority. Our packaging cases can meet sea and air freight requirement. We'll prepare all files like PL, the certificate of origin, invoice and other files. There is a worker whose main job is make sure every robot can be delivered to customes port without a hitch in 40 working days.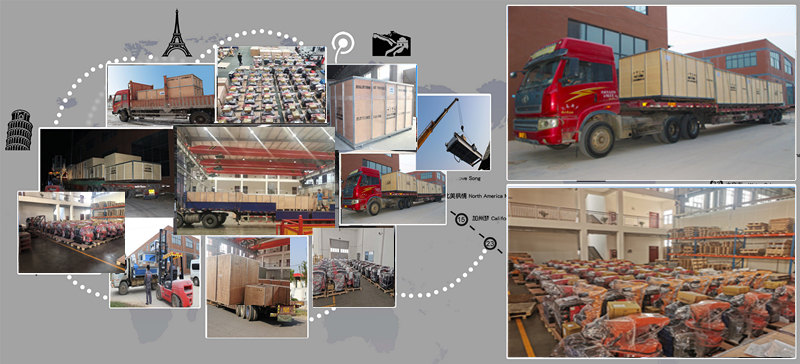 Your worker will have 3-5 days free training in our factory. There will be a Wechat group or WhatsApp group, our technicians who are responsible for after sale service, electrical, hard ware, software, etc, will be in. If one problem happens twice, our technician will go to customer company to solve the problem.

Q1.what does this robot used for?
A.Robotic Loading and unloading are made for machine tools. The production line loading and unloading a workpiece flip, turn the work order and the like.
Q2.What about the loading and unloading robot efficiency?
A.Using loading and unloading robot can increase productivity, robotic increases machine production by up to 20% over traditional method.
Q3.Can loading and unloading robot coordinate with vision sensor?
A.Vision can be used to find parts on belt conveyor or on pallet.
Q4.How many payload do you have for loading and unloading robot?
A.Loading and unloading robot, pick and place robot too, Our robot from 3Kg to 165kg can be used for this work. 10kg and 20kg are frequently used.
Q5.Why should I use loading and unloading robot for my CNC machines?
A.This industrial automation robotics can improve production efficiency. Robotized machine feeding will increase productivity and free skilled workers for more stimulating and fruitful work.

NO.219 NanyangRoad, Zhengzhou City, Henan Province China
Request for Quotation