Product Introduction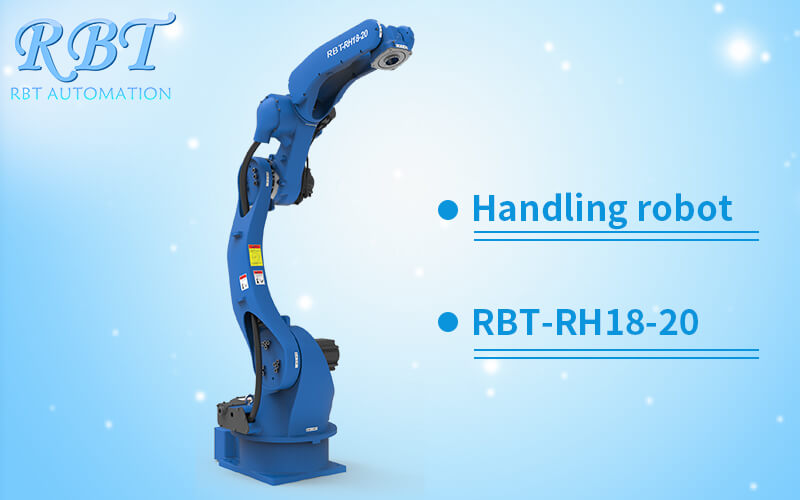 *With compact design 20kg payload and about 1.8 meters arm span,it can be installed on the ground or upside down flexibly.
*With large working space and fast running speed.it is suitable for welding, spraying, loading and unloading, handling, sorting, assembling and other applications.
*The safety emergency stop board is independent of the controller, and the safety relay circuit id adopted to provide double circuit emergency stop to ensure the reliability of emergency stop.
*The robot body cables are made of special cables for flexible robots.
*Built-in three-phase transformer,380v and 200v isolation, more stable power supply. (Power supply requirements can be customized for different countries.)
*Built-in three phase filter can effectively improve the performance of EMC and EMI.
*The robot body is with dual-circuit gas pipe and meets welding and handling requirements.
Product Paramete
Model
RBT-RH18-20
Arm form
Vertical multiple joints
Degree of freedom
6 axis
Maximum payload
20KG
Maximum travel
axis 1
Ground/upside down mounting -167°~167°,wall mounting -30°~30°
axis 2
0°~175°
axis 3
-80°~150°
axis 4
-190°~190°
axis 5
-105°~130°
axis 6
-210°~210°
Maximum speed
axis 1
159°/S
axis 2
159°/S
axis 3
169°/S
axis 4
280°/S
axis 5
240°/S
axis 6
483°/S
Allowable torque
axis 4
48N.m
axis 5
48N.m
axis 6
28N.m
Allowable moment of inertia
axis 4
1.8kg.m²
axis 5
1.8kg.m²
axis 6
0.8kg.m²
Repeated positioning accuracy
±0.08mm
Maximum reaching distance
1720mm
Robot body weight
285KG
Installation mode
Ground/upside down mounting

Installation environment

Ambient temperature
0°~45°
Relative humidity
20~80% (No condensation)
Vibration
Under 0.5G
Others
Robot installation must be away from: Flammable or corrosive liquids or gases, electrical sources of interference
IP level
Body IP54, wrist IP67
Advantage features
Compact structure, high speed, high precision, high expansibility and easy operation
Application
Cutting, assembly, handling, marking, grinding
Product Details
Product Application

Certificate

Contact Information
NO.219 NanyangRoad, Zhengzhou City, Henan Province China
Request for Quotation