Food delivery robot is applied to the food and beverage distribution work in hotels, restaurants, shopping malls and other places. Draw a map through the robot's navigation and positioning system, match the on-site environment and formulate the optimal route.
The food delivery robot can efficiently and accurately deliver automatically according to the position of the table, and has the functions of intelligent prompting of the plate, autonomous charging, and running status reminder.
Core technical advantages:
Build a map remotely:
Rapid deployment, time-saving and efficient
Through the cloud service platform, the robot is connected and controlled remotely, and the navigation map is constructed visually throughout the process, reducing the response time of operation and maintenance services, allowing the robot to be put into use in a shorter time, saving time and cost.
◎ Operational data monitoring
◎ Build a map remotely
◎ Custom calibration position
◎ Autonomous planning path
Autonomous planning path:
Automatically plan the optimal distribution route and avoid obstacles autonomously
Autonomous return to charging
Customize the position of the charging station. When the power is lower than the minimum value, it will automatically return to charging without manual operation.
◎ Real-time power monitoring
◎ 10~12 hours long battery life
◎ Infrared docking charging pile
◎ Precise navigation and positioning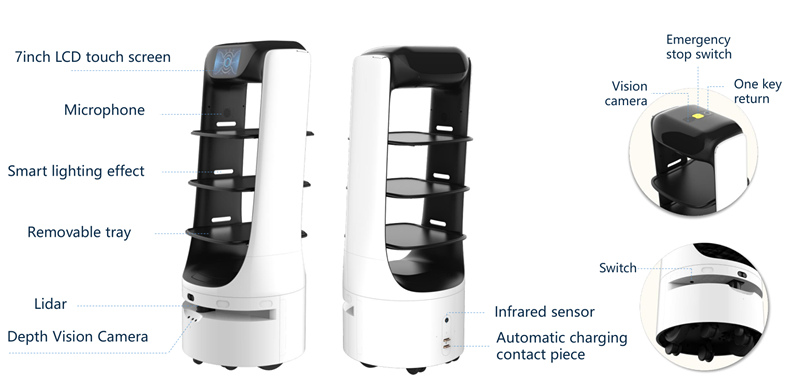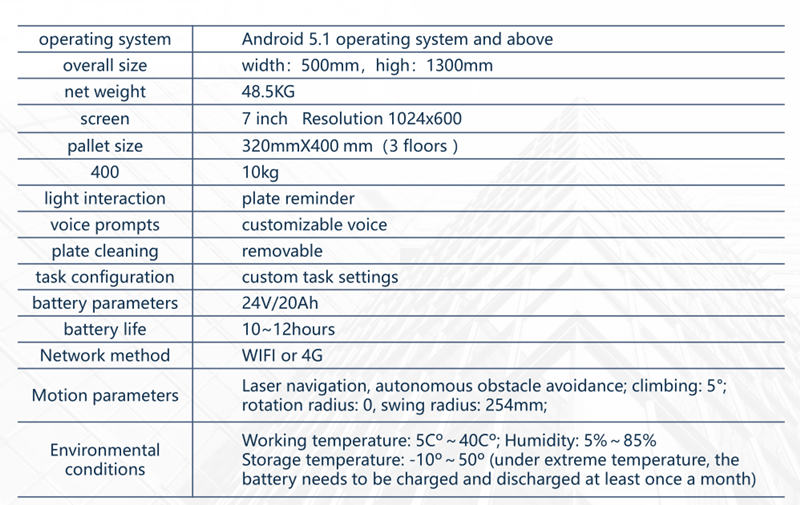 Save labor cost, convenient and fast
It is widely used in hotels, restaurants, office buildings, KTVs, conference venues and other catering and entertainment venues. It independently plans the delivery path, actively avoids obstacles, and uses intelligent robots to optimize labor costs, which can enhance the brand image of the restaurant

Our company can offer customers with different terms of delivery. Customers can choose shipping way by sea or by air according to urgency priority. Our packaging cases can meet sea and air freight requirement. We'll prepare all files like PL, the certificate of origin, invoice and other files. There is a worker whose main job is make sure every robot can be delivered to customes port without a hitch in 40 working days.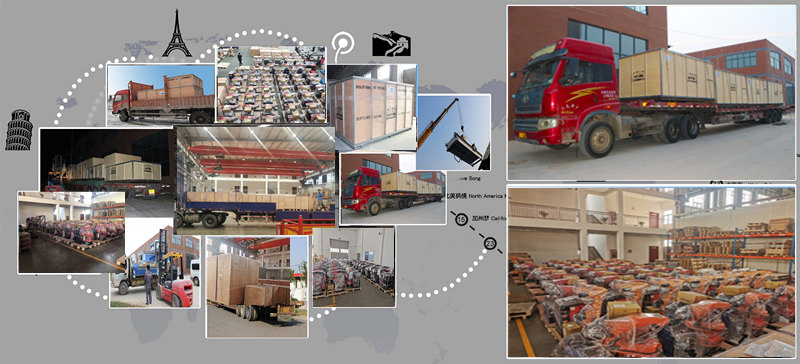 Your worker will have 3-5 days free training in our factory. There will be a Wechat group or WhatsApp group, our technicians who are responsible for after sale service, electrical, hard ware, software, etc, will be in. If one problem happens twice, our technician will go to customer company to solve the problem.

1. How long do I want to get the sample?
The samples will be ready for delivery in 1-3 days after you pay for the samples and send us the confirmed documents. Samples will be sent to you by express and arrive within 3-5 days.
2. What is the delivery time for mass production?
To be honest, it depends on the number of orders and the season you place them.
Usually according to the general order 25-28 days.
3. Can you do OEM and ODM?
A: Yes, OEM and ODM are both acceptable. The material, color, style can customize, the basic quantity we will advise after we discuss.

NO.219 NanyangRoad, Zhengzhou City, Henan Province China
Request for Quotation